Stamford Moving Truck & Cargo Van Rental
at Trs of Ny Corp
Address:
76 Progress Drive
Stamford
, CT
06902
,
USA
Phone:
(203) 968-0438
Hours:
Sun Closed
Mon - Fri 8:00 AM - 5:00 PM
Sat 8:00 AM - 4:00 PM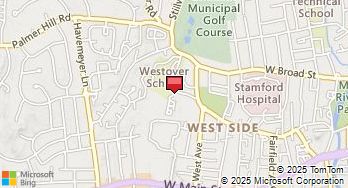 Other Budget Truck locations near Trs of Ny Corp
Trs of Ny Corp is ideal for Cargo Van & Moving Truck Rental in West Side, Stamford, (The location is less than half a mile away). Other nearby Stamford areas include Downtown, Cove-East Side, Glenbrook and Turn Of River.
Moving Truck Rental
Most locations offer 3 dimensions of moving trucks: 10, 16 and 24 ft. Once you specify a location and dates, you will be able to select from the vehicles available. Use the "Help me Select" on the Truck Selection page to get info on which size fits your requirements.
Cargo Van Rentals
Whether moving a child to college or just transporting items across town, you don't always need a moving truck. That's why we offer cargo and moving van rentals at many Connecticut locations. We can even include moving supplies and hand trucks at many locations! Fill out the reservation form above or call us at (203) 968-0438 to confirm cargo van availability at Trs of Ny Corp today.
Additional locations near Stamford
Unlimited Mileage Truck Rental
Budget Truck locations offer competitive mileage rates based on extensive computer mapping and analysis to make sure we meet our customers' needs. Participating locations offer high-mileage discounts, call or reserve for details.
One-Way Truck Rental
Moving from Stamford, Connecticut to anywhere else in the US? Budget Truck has you covered with one-way rentals from many of our locations. Confirm one-way availability at Trs of Ny Corp using the above reservation form.
Connecticut Speed Limits & Traffic Laws
Remember, the speed limit for all vehicles on most interstate freeways in Connecticut is 65 outside metro areas and 45–55 otherwise. This includes all types of Budget Truck rentals: cargo vans and all trucks. For all other roads, be sure to observe posted speed limits, which are typically 45–55 on busier roads and 20–40 on local and residential roads.
Cell Phone Laws in CT
In Connecticut it is a violation of the law for any driver to talk on his or her hand-held cell phone while driving. Be aware that cell phone laws are subject to change. Regardless of the law, better to be on the safe side and focus on the road!
Texting while driving is very dangerous in any situation, and in Connecticut it is also against the law. A total of 42 states have texting bans, so play it safe and avoid texting while driving wherever you go.